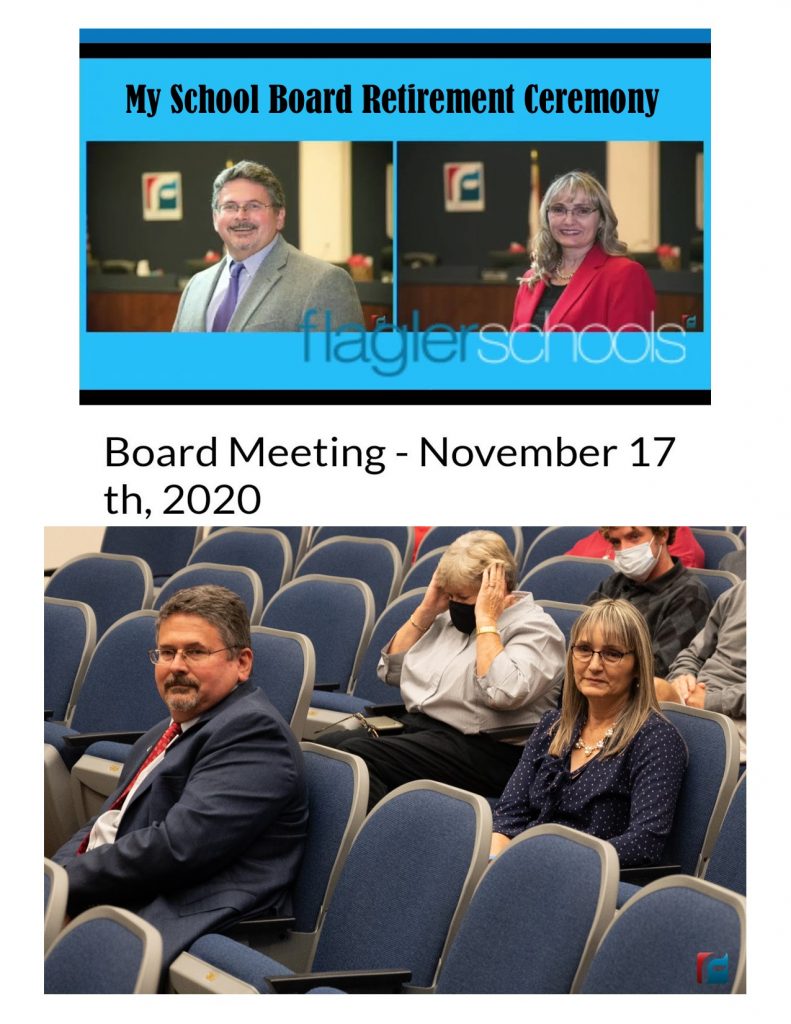 I am very grateful to my school board colleagues Chair-Janet McDonald, Collen Conklin, Trevor Tucker and superintendent cathy Mittelstadt for such acknowledgment by presenting to me a plaque for my service as Flagler County School Board of Education. Thank you so much! I will treasure for the rest of my life. 💕
By visit this link you will watch the video and the acknowledgment of my services as school board member. https://videos.flaglerschools.com/media/Board+Meeting+-+November+17th%2C+2020/1_ryw0vs9p/79511961
As a School Board Member of Flagler Schools. Was a honor to serve my community and helping students to succeed. Thanks for the opportunity to work with amazing Teaches and school staff. Once again thanks to the board members colleagues for the support and encouragement.
https://flaglerschools.com/school_board/school_board_spotlights/november_2020_spotlights
Flagler County School Board members recognized outgoing School Board Members Andy Dance and Dr. Maria Barbosa, thanking them for their time serving on the School Board. (Special thanks, to Jason Wheeler for the amazing video. You are amazing).
Here are a few of multi wishes  and thanks from my Flagler community! On behalf of the Flagler ESE Parent Advisory Council (EPAC), we would like to take this opportunity to thank Mr. Dance and Dr. Barbosa for their service to the Flagler Schools Community and, in particular, for their commitment and dedication to students receiving ESE services. Mr. Dance and Dr. Barbosa have both been extremely attentive to the ESE community, and they have supported EPAC's goal to encourage greater inclusion and acknowledgement of students with exceptionalities throughout the Flagler Community. On a personal note, Mr. Dance and Dr. Barbosa have both offered sage guidance about the best ways to advocate for the ESE community and further EPAC's mission – advice that we have greatly appreciated. We regret not being able to attend in person tonight as your retirement from the School Board is celebrated by our community. We wish you the best of luck with every endeavor you take on, and we look forward to working together with you in those future roles.  
McElroy: Thanks for your dedicated service both to Flagler schools and our community! I know you will continue to do great work! & Michelle Muller: Beautifully done. U deserved that video for all the love, work and dedication u put into all u did as a school board member. Enjoy the new season God has for u!
MaryAnn Suwinski: Awesome job!!! – Ivone Carneiro: Good job! – Kim Sunshine: Thank you for your service.