The 5 Gold Stars Award Certificate guidelines for School Year 2019-2020
Each month from August to June school year, are 5 winners to receive the 5 Gold Stars Award Certificate and their names will be announced-recognized at Flagler County School Board meeting by Dr. Barbosa closing comments.
The criteria to receive a Dr. Maria Barbosa – Flagler Schools 5 Gold Stars Award certificate must have one or more of the following categories:
* Making impact with Flagler schools student's education
* Students Achievement-Recognition for their academics, skills and knowledge
* Student who demonstrate unusual commitment to learning in academics despite various obstacles.
* Community-based partnership Involvement with Flagler Schools student's education
* Businesses that invested in Flagler school's education
* Information needed about the program, project or other "many times, I select the winner when I visit or participated at the events".
* The time of receive the 5 Gold Stars Award certificate the winner must provide a picture holding the certificate.
NOMINATE! Do you know anyone who works for Flagler County Schools including students, or a devoted mentor to student?
NOMINATE! A Flagler County community member or organization- business who provide an additional source of support for new and ongoing projects that specifically address local student's needs. Their support, helps to promote educational opportunities that are important to school resources for all students in the Flagler Schools District.
E-Mail to barbosam@flaglerschools.com with the nominations and the following information:
Nominee's Name
Nominee's Profession or Department and mailing address
In 3-4 lines describe why this person deserve the 5 Gold Stars Award Certificate
Please note: Florida has a very broad public records law. Most written communications to or from state officials regarding state business are public records available to the public and media upon request. Your e-mail communications may therefore be subject to public disclosure.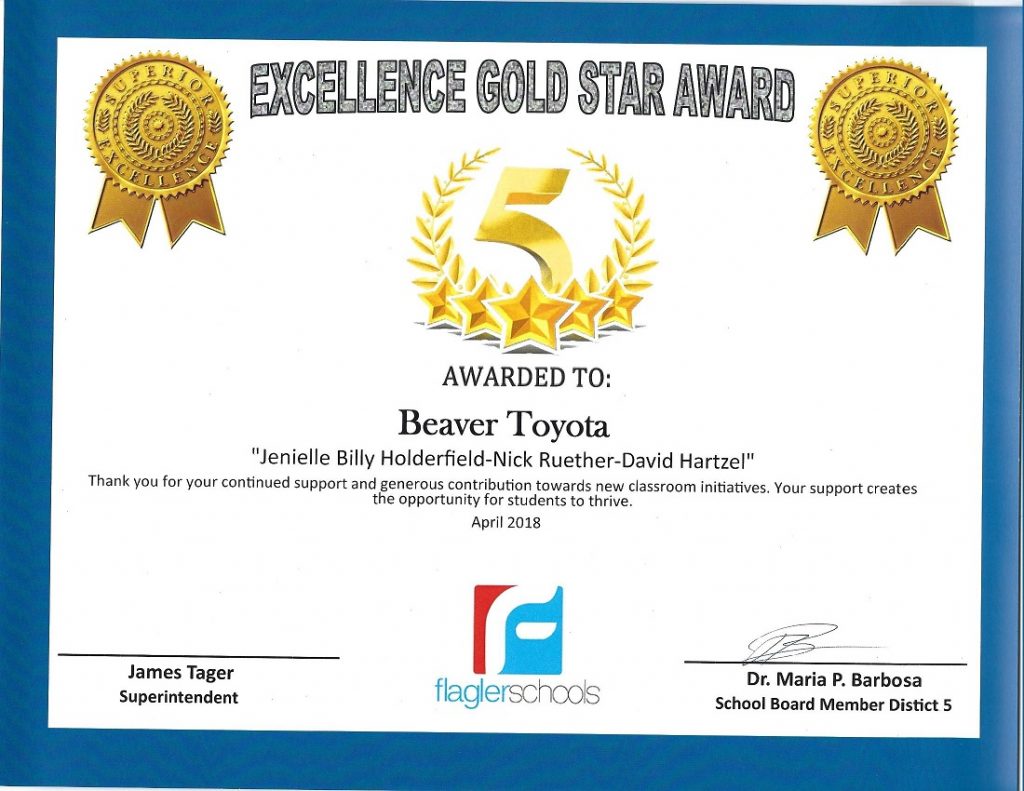 5GoldStarFlaglerschools
,
5GoldStarsAwardGuidelines
,
5GoldStarsNominees
,
Bunnell
,
CommunityBased
,
Flagler County Schools
,
Flagler5GoldStarAwardNominees
,
flaglerbeach
,
FlaglerBusinesses
,
FlaglerCommunityInvolvement
,
FlaglerCounty
,
FlaglerEducation
,
FlaglerNominate
,
Maria Barbosa for School Board
,
MariaBarbosa
,
MariaBarbosaAwardCertificate
,
MariaBarbosaCommitted
,
PalmCoast
,
palmcoastflorida
,
recognation
,
ServingFlaglerCountyCommunity